Electroconductive advanced structural ceramics
Making advanced structural ceramics electroconductive is receiving plentiful attention for a variety of engineering and functional applications, besides facilitating the possibility for electro-discharge machining (EDM). However, imparting electrical conductivity to alumina or zirconia through homogeneous dispersion of percolative conducting phase in the ceramic matrix to provide the necessary conductivity, while not deteriorating the excellent mechanical properties, is challenging.
We are addressing these challenges by innovative processing strategies through which we are able to incorporate decreased amounts of nanosized TiN particles or a thin, continuous, grain wetting carbonaceous phase. Both approaches impart high conductivity to the ceramic matrix, while the mechanical properties are pertained or even increased. Spark Plasma Sintering is used for rapid sintering of the samples.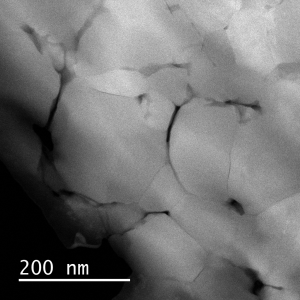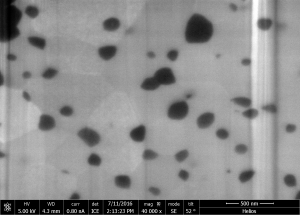 Young researcher project ARRS
Assoc. Prof. Andraž Kocjan
Programme group leader, CTO, Senior scientist
Colloidal processing of hierarchically porous alumina ceramics
Mesoporous alumina (MA) is nowadays heavily exploited due to its fine particle size, controlled porosity, large surface area and the catalytic activity of its surfaces, finding applications in industry as adsorbents, catalysts or catalyst carriers, membranes for filtration, coatings, etc. Hierarchical macroporous–mesoporous aluminas (HMMAs) furhter offers a promising strategy to minimize the diffusion barriers and potentially enhances the distribution of active sites.
We utilize an unconventional synthesis path for producing exceptionally pure, hierarchically self-assembled, 2D MA powder with controlled crystallite, aggregate and pore size based on the exploitation of the AlN powder hydrolysis. The colloidal processing is then used for further consolidation and structuring of such MA powder into high-performance, hierarchically porous alumina structures for engineering and biomedical applications not needing thermal or sintering steps.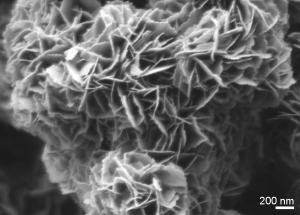 Young researcher project ARRS
A. Kocjan, T. Konegger, A. Dakskobler, Macroporous Materials Hierarchical macroporous–mesoporous γ-alumina monolithic green bodies with high strength. J. Mater. Sci. 52, 11168–11178 (2017).
Assoc. Prof. Andraž Kocjan
Programme group leader, CTO, Senior scientist
Zirconia ceramics for dentistry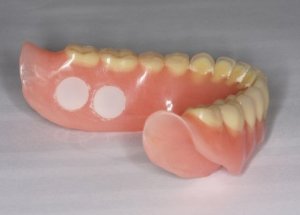 When replacing lost teeth, biomaterials with excellent mechanical and aesthetic properties are required. Zirconia ceramic is popular both with dentists and with patients, and is unique due to its metastable crystal structure. Our research considers its mechanical behaviour and longevity in aqueous environments, aiming to increase its reliability and improve the processing routes. We are developing novel ways of stabilizing the microstructure, researching the sintering conditions and looking into the effects common preparatory procedures pose for the final material characteristics. In addition to extensive laboratory experiments, osseointegration studies, clinical trials are also conducted in close collaboration with the Department of Prosthodontics at the Faculty of Medicine, University of Ljubljana.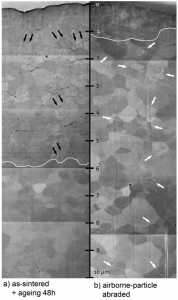 D. Bučevac, T. Kosmač, A. Kocjan, Acta Biomaterialia The influence of yttrium-segregation-dependent phase partitioning and residual stresses on the aging and fracture behaviour of 3Y-TZP ceramics. Acta Biomater. 62, 306–316 (2017).
J. Cotič, P. Jevnikar, A. Kocjan, Ageing kinetics and strength of airborne-particle abraded 3Y-TZP ceramics. Dent. Mater. 33, 847–856 (2017).
Assoc. Prof. Andraž Kocjan
Programme group leader, CTO, Senior scientist
Sintering of ceramics (SPS fascility)
Sintering is the oldest method for the effective consolidation of particles into dense monoliths with tailored microstructures and properties. The so-called Spark Plasma Sintering (SPS) is a promising technique for rapid densification of ceramics (and other materials) at relatively low temperatures enabling fabrication of dense nanocrystalline bodies. With our SPS sintering facility we are able to study and master the rapid sintering processes facilitating nanoceramics with improved optical, electrical and mechanical applications.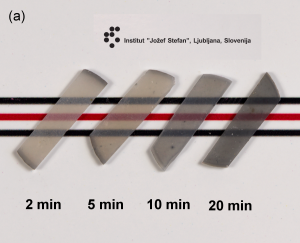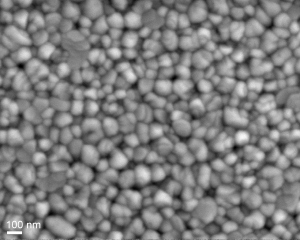 A. Kocjan, M. Češnovar, D. Vengust, T. Kosmač, A. Dakskobler, Translucent Yttria- and Silica-Doped Mullite Ceramics with Anisotropic Grains Produced by Spark Plasma Sintering. J. Am. Ceram. Soc. 99, 3090–3096 (2016).
Assoc. Prof. Andraž Kocjan
Programme group leader, CTO, Senior scientist
Ceramics with nonlinear current-voltage (I-U) characteristics for overvoltage protection
The ZnO-based varistor ceramics doped with oxides of Bi, Sb, Ti, Sn, Co, Mn, Ni and Cr in total amount typically in the range from 7 to 10 wt.%, sintered at temperatures in the range from 1100 to 1300°C possess exceptional current-voltage (I-U) nonlineartity and energy absorption capability. Therefore, varistor ceramics are widely used in overvoltage protection for broad range of voltages from few volts up to several 100 kilovolts. Correct understanding of the role of dopant, especially those affecting the grain-growth is a key to tailoring electrical characteristics of the varistor ceramics, which are closely related to their microstructure. Oxides of Sb, Ti and Sn trigger in ZnO grains formation of inversion boundaries (IBs) and we found that IBs completely control the grain growth process. Accordingly, addition of various low amounts of Sb2O3 enable preparation of either fine-grained high-voltage ceramics or coarse grained low-voltage ceramics. Consequently, exploiting the IBs induced grain growth mechanism as we called it enable preparation of varistor ceramics with total addition of varistor dopants only in amount of 3 to 5 wt.% for broad range of voltages. Such ceramics have minimum amount of secondary phases at the grain boundaries, which is beneficial for their U-I characteristics. These knowledge and understanding gives us excellent background also for development of ZnO-Bi2O3-based varistor ceramics sintered at temperatures below 1000°C, textured varistor ceramics for multilayer varistors and thick-film varistors prepared by screen printing for integration into hybrid circuits. Furthermore, new types of ZnO-based varistor ceramics are developed without addition of standard dopants for I-U nonlinearity, i. e. oxides of Bi, Pr, V and Ba, which are known to result in formation of electrostatic barriers at the grain boundaries. Development of the SnO2-based varistor ceramics is aimed for miniaturization of high-voltage and high energy varistors.

Prof. Slavko Bernik
Senior scientist, scientific advisor
+386 1 4773 682
slavko.bernik@ijs.si
RESEARCHGATE
SICRIS
Field of research: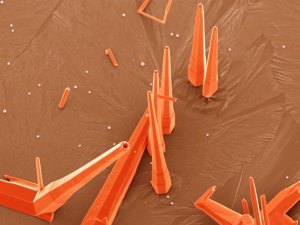 High-temperature reactions
Phase equilibria
Microstructure development,
Zinc Oxide ceramics
Varistors
Oxide thermoelectrics
Scanning electron microscopy – SEM
Electron microprobe analysis-WDS
Qualitative, quantitative analysis
Synthesis and characterization of ZnO nanostructures and nanopowders
Transparent-conductive ZnO films
The use of transparent and conductive films (TCFs) in technologies of liquid crystal and plasma displays, touch panels, organic light-emitting diodes and solar cells is dominated by indium-tin-oxide (ITO). High price of In emphasizes strong need for the development of cheaper alternatives such as ZnO-based TFSs. Using low-temperature hydrothermal synthesis at 90oC we are developing highly transparent and conductive ZnO films on the glass substrates. We explained the formation of highly textured polycrystalline film by spatially confined oriented growth (SCOG) mechanism, which requires appropriate nucleation layer on the glass substrate.

Prof. Slavko Bernik
Senior scientist, scientific advisor
+386 1 4773 682
slavko.bernik@ijs.si
RESEARCHGATE
SICRIS
Field of research: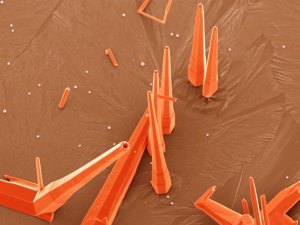 High-temperature reactions
Phase equilibria
Microstructure development,
Zinc Oxide ceramics
Varistors
Oxide thermoelectrics
Scanning electron microscopy – SEM
Electron microprobe analysis-WDS
Qualitative, quantitative analysis
Synthesis and characterization of ZnO nanostructures and nanopowders